Russian as a Foreign Language

All international students can attend classes of Russian as a foreign language at all levels during their studies at HSE University for one semester for free. Before the classes, students are required to take an entrance test and get enrolled into courses according to their test results.
Language courses are offered to the whole set of levels – from Beginner to Advanced, along with a wide selection of elective courses. Studying in small groups, students will develop their reading, writing, and speaking skills through a unique combination of academic instruction, conversational practice with native speakers, and the innovative methods in language instruction.
A standard course lasts one semester (two modules): it is comprised of 8-10 academic hours per week and is worth a total of 6 ECTS credits. There is also an option to complete only one module to earn 3 ECTS credits.
Other options are also available on a fee-paying basis.
Please check the Russian as a Foreign Language Center website or address your questions to oeremina@hse.ru.
Contacts
International Student Support Centre
We are part of Department of Internationalisation
Address


11 Pokrovskiy Bulvar, office 626D
Visiting hours


Mon.— Fri., 10:00 — 19:00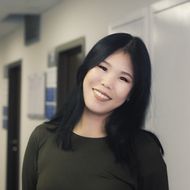 Naina Ksenofontova
Manager
phone +7 (495)7729590 *27662

phone +7 (495)7729590 *27660