Pre-arrival Checklist (Fall 2023)
This page contains useful information that will help you get access to HSE university services and prepare for your semester/year at HSE University.  

1. Check Access to Your HSE Student E-Mail (May 2023)

1. Check the inbox and spam folder of the email address you indicated when filling in your HSE Online Profile on https://asav.hse.ru/foreignstud.html.
2. You will find your HSE e-mail address and password in an e-mail with the subject 'Параметры вашей учетной записи для входа (Your login account settings)'.
3. Go to https://mail.yandex.ru/.
4. Follow instructions here to log in.

2. Check Access to Your LMS Acco
unt (May 2023)
1) Go to lms.hse.ru: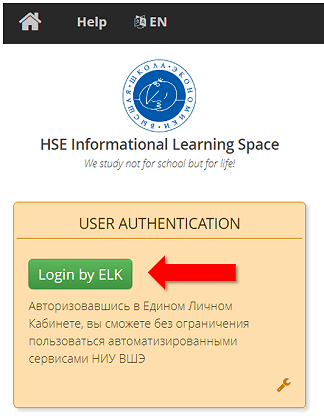 2) Click 'Login by ELK' to log in and log in using your HSE e-mail address and your password.

3. Attend pre-arrival webina
rs (May-August 2023) 
To help you better prepare for you exchange experience at HSE University we have prepared a series of webinars. Please see the schedule here.
4. Enroll in HSE University courses
(late May-early June 2023) 

Enrolment for courses will run in the 'Selective Courses' tab in LMS. 

Instruction on how to enroll in courses in LMS (will be updated when the course enrollment page becomes accessible)
Tips on choosing courses
5. Apply for your Russian visa 
(if you are arriving in Russia) 
(late July-early August 2023
)
You will receive a letter of invitation for a Russian visa. Please check your local Russian Consulate's requirement for visa applicants in advance.
6. Register at the HSE University Librar

y  (August 2023)
1. Register in the library: https://elib.hse.ru/e-resources/library/appl_form_eng.htm
2. Register to get remote access to e-resources: https://elib.hse.ru/e-resources/ez/ezregulation_eng.htm
3. You will be able to keep track of the books your borrow in your account in the HSE App X app.
8. Purchase Medical Insurance (if you are arriving in Russia)

 

(August 2023) 
All international students are required to purchase medical insurance for the duration of their study abroad programme. Please see the Medical Insurance page for more information.
After you have purchased your medical insurance, please upload it to your HSE Online Profile on https://asav.hse.ru/foreignstud.html
9. Take the Russian Language Placement Tes
t (late August 2023)
The Russian a Foreign Language course (6 ECTS per semester) is not compulsory. You can enrol in one Russian as a Foreign language course per semester free of charge and it will be included in your transcript of records.

If you wish to attend this course, please take a placement test in your LMS profile (instructions).

If you have not studied Russian before, please submit an empty test so that the Russian Language Centre knows that you are interested and contacts you.

If you are not going to take the Russian as a Foreign Language Course, you do not need to take the placement test. 
10. Attend the Orientation Session/Orientation Foll
ow-up (late August 2023)
The Orientation Session schedule for students on physical and online mobilities will be available here.